No need for Lacson to harm Mancao
Details

Hits: 3379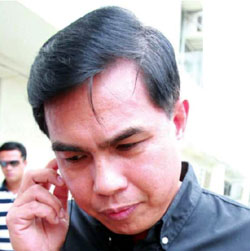 On Nov. 16, 2011, there was a hearing of the Dacer-Corbito kidnapping and murder case. That was the day after Gloria Arroyo was blocked at the airport when she attempted to leave the country for Singapore.
A source who was at the courtroom said the prosecution's witness, former Police Senior Superintendent Cezar Mancao II, was fidgety because his lawyer, Ferdinand Topacio, was not around.
Someone told Mancao, "Hindi na darating yun. Napuyat yun kagabi. (He won't be coming. He is tired due to to last night's incident."
Mancao (photo from Tempo)
Topacio never made it to the court that day and the hearing was postponed. He was present in subsequent hearings.


Mancao having the same lawyer as Arroyo gives a clue as to the link between the two.
Topacio's non-appearance that day should have given Mancao an idea what's in store for him that he had already served the purpose of Arroyo which was to pin down Sen. Panfilo Lacson.
It will be recalled that it was turnaround testimony, accusing Lacson of having ordered the kidnapping and murder of publicist Bubby Dacer and his driver, Emmanuel Corbito, in 2000, that was the basis of a warrant of arrest for Lacson. The senator evaded arrest by leaving the country and came back only after Arroyo had stepped down and the case against him was dismissed.
The Court of Appeals ruled that "Cezar Mancao is not a credible and trustworthy witness. Under oath, he contradicted himself on material points. Inconsistencies and material contradiction affect the credibility of Cezar Mancao and the veracity of his statements." The decision was sustained by the Supreme Court.
The dismissal of the case against Lacson put Mancao in a complicated situation because he was under the Witness Protection Program. After he was declared not a credible witness, what was the use of his staying under the protection of the state?
Even then, Arroyo still has a lot of "people" in the Department of Justice and Mancao continued to stay at the National Bureau of Investigation. He was expecting that the case against him related to the Dacer-Corbito murder case would be dropped after the case against co-accused, former police Senior Superintendent Michael Ray Aquino was dismissed. But it did not happen.
His narration of how he escaped last Thursday looked so easy, one wonders if he was not purposely let out. Subsequent statements by NBI officials pretending to be on the manhunt of Mancao insult the public.
In his media interview after he left the NBI compound, he said he had to "escape" after he learned that he would be transferred to the Manila City Jail. He said he could be easily killed at the Manila City jail. He blamed Lacson for the adversities that he is undergoing.
Lacson, who is busy campaigning for his son, Jay, who is a candidate for vice governor in Cavite, replied to reporters in a text message, he "can't see any cogent reason to comment or react to Mancao's tirades having been declared by the Court no less as incredible."
"I have long forgiven him as I have forgiven those who made me suffer for 9 years of the Arroyo regime. Having said that, I have no interest in him," he also said.
Come to think of it. What would Lacson gain if he harmed Mancao now? Nothing.
Pity Mancao. A perpetual sense of insecurity, which must be Mancao's situation, is a punishment you would not wish even on your worst enemy.
Visit Ellen's website. Follow her on Twitter @tordesillas.