Crunch time
Details

Hits: 2806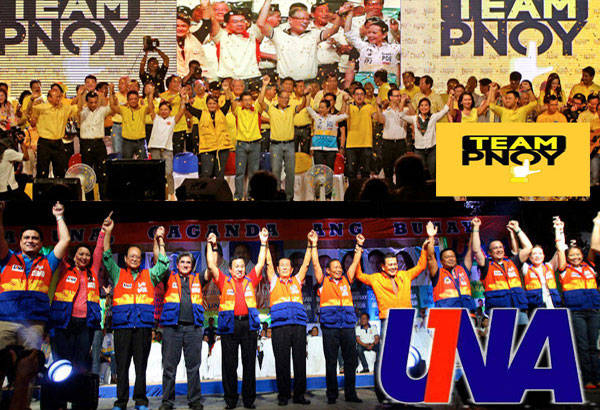 Team PNoy and UNA (Philippine Star)
With two more weeks to go before Election Day, candidates are moving heaven and earth to get that much coveted post.
Expect more black propaganda, vote buying, junkings and soul-selling. Senatorial candidates would be dealing individually with local politicians. The declaration of Albay Gov. Joey Salceda, head of the Liberal Party in Bicol, that he won't be voting straight Team PNoy and include two candidates from the United Nationalist Alliance, will be replicated all over the country.
Salceda said that he will include UNA candidates JV Ejercito and Nancy Binay in his senatorial ticket.

Ejercito and Binay are only two of the UNA candidates in the Magic 12 in both Pulse Asia and SWS poll surveys, spoiling the exhortation of President Aquino for a straight Team PNoy victory.

The results of Pulse Asia's latest survey conducted April 20 through 22 reflect the volatility of the ranking for those in the bottom six. Re-electionists Loren Legarda,Chiz Escudero , and Alan Cayetano are assured of victory.

That means that Escudero has recovered quickly from whatever damage the exposé of the mother of actress Heart Evangelista,Cecile Ongpauco, about his drinking and bad manners, did to his popularity.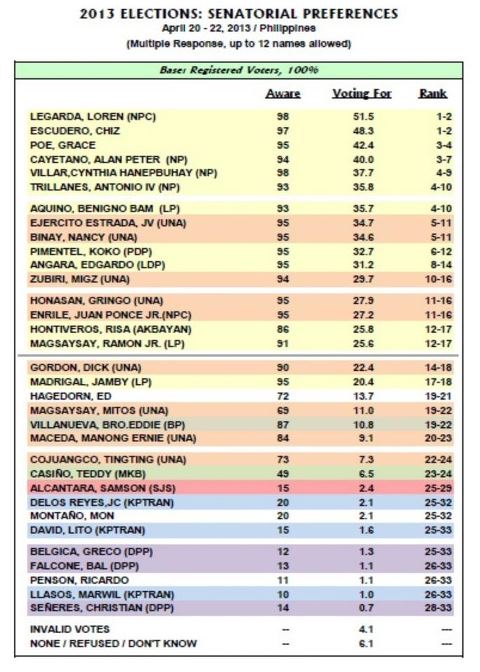 On the roll is the unassuming Grace Poe, who is in number three ahead of Cayetano. FPJ, must be beaming from where he is now.
Cynthia Villar's number four position is proof of the influence of a good media campaign especially television ads. What did not work for her husband in 2010 is proving effective for her.
Antonio Trillanes IV, after staying in the precarious position of number 11, has moved up to number six. He is actually ranked in the range of 4-10, the same position as Bam Aquino, whose candidacy banks on his being the nephew of Ninoy and Cory Aquino and the cousin of the President.
Trillanes' improved ranking is heartening considering that he does not have as many TV ads as the other candidates. He has relied much on the grassroots national organization that he and his Magdalo group (which is no. 5 in the partylist election list) have set up even when he and his co-officers were still in detention.
Number 8 is JV Ejercito, who has apparently gained a lot from the endorsement of his father, former President Joseph Estrada, and who is also in an intense battle for Manila mayorship with incumbent Alfredo Lim Joseph.
Nancy Binay's number 9 ranking is another example of the advantage of having ample resources for TV ads and her father's national organization.
Koko Pimentel, who was deprived of five years of his term in the Senate by Migz Zubiri, is number 10. Sonny Angara, banking heavily on his father's legacy, is number 11.
Zubiri is number 12 and he will be the luckiest politician on earth if he makes it. Even if he stole five years of Koko Pimentel's term, he would be considered a first termer if he makes it and he will be entitled to another six-year term.
Those immediately below the Magic 12 circle – Gringo Honasan, Jackie Ponce-Enrile, Jun Magsaysay and Risa Hontiveros – still have a fighting chance to get into the winning circle. And it is expected that they will be doing everything to make it.
Visit Ellen's website. Follow her on Twitter @tordesillas.