Should prosecutors seek death penalty for the Boston Marathon bombing suspect?
Details

Hits: 2885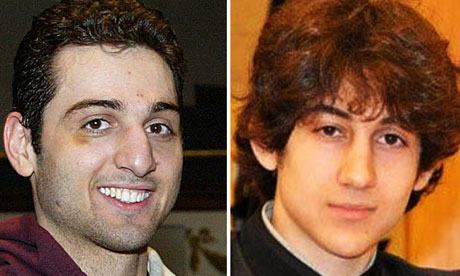 On April 15, three people were killed and more than 200 were wounded, when two bombs exploded near the finish line of the Boston Marathon, allegedly perpetrated by two young immigrant brothers from Russia.
The older brother, 26-year-old Tamerlan Tsarnaev, died after a shootout with police early Friday.
The younger brother, 19-year-old Dzhokhar Tsarnaev, was captured that night, after police found him hiding in a boat in the backyard of a house in Watertown, a suburb near Boston, Massachusetts.
Despite being seriously wounded, heavily sedated and breathing on a ventilator, CNN reported that Dzokhar nodded his head to answer brief questions from his hospital bed.
Inquiries from authorities sought to find out if there are more bombs, explosives caches or weapons, and if anyone else was involved, the source told CNN.
Investigators reportedly went into Tsarnaev's room every few hours to ask questions in the presence of doctors.
A week after the deadly terror attack, Tsarnaev was charged with using and conspiring to use a weapon of mass destruction, resulting in death and one count of malicious destruction of property by means of an explosive device, resulting in death.
As New York Times reported: the suspect appeared before a federal magistrate, who came to his bedside at Beth Israel Deaconess Medical Center, where he is being treated for what the court papers described as possible gunshot wounds to the "head, neck, legs and hand."
Magistrate Judge Marianne B. Bowler advised Mr. Tsarnaev of his rights and the charges against him, according to a summary of the proceeding provided by the court.
Tsarnaev is being represented by three attorneys from the federal public defender's office.
The New York Times further reported that according to the official court transcript, the bedside hearing was done with Dr. Stephen R. Odom, a trauma surgeon, who made sure that Tsarnaev was well enough for the hearing.
"How are you feeling?" he asked him. "Are you able to answer some questions?"
Tsarnaev nodded yes.The magistrate began by asking William Fick, an assistant public defender, whether he had "had an opportunity to speak with" Tsarnaev.
"Very briefly, your honor," Fick said. Fick is reportedly a graduate of Yale and speaks Russian.
Turning to Tsarnaev, the magistrate said, "So you have your lawyers here."
Tsarnaev nodded yes.
The suspect was advised by William Weinreb, an assistant federal prosecutor, that the punishment upon conviction on each of the two counts could be "death, or imprisonment for any term of years, or life" and "a fine of up to $250,000."
The magistrate told Tsarnaev: "This is not a trial, and you will not be called upon to answer the charges at this time. If at any time I say something you do not understand, interrupt me and say so; is that clear?"
Tsarnaev nodded yes.
"All right," she said. "I note that the defendant has nodded affirmatively."
The "Miranda Rights" was read to Tsarnaev: "You have the right to remain silent. Anything you say will be used against you in a court of law. You have the right to an attorney during interrogation; if you cannot afford an attorney, one will be appointed to you."
She told him that he did not have to speak to or cooperate with the government. "Do you understand everything I have said about your right to remain silent?"
Again he nodded yes, and she said: "Again I note that the defendant has nodded affirmatively."
She then asked him whether he could afford an attorney.
It was reportedly the only time that Tsarnaev, who was shot in the neck, spoke. "No," he said.
The judge noted, "Let the record reflect that I believe the defendant has said 'No.' "
She added: "I find that the defendant is alert, mentally competent and lucid. He is aware of the nature of the proceedings."
Court records state that Tsarnaev agreed to "voluntary detention." A probable cause hearing – the preliminary hearing which usually takes place before arraignment and before a major crime goes to trial – was set for May 30.
On this date, the judge would be presented with the basis of the prosecution's case, and the defendant would be afforded full right of cross-examination and the right to be represented by legal counsel.
If the prosecution could not make a case of probable cause, the court must dismiss the case against Tsarnaev.
Boston observed a moment of silence at 2:50pm on Monday – exactly one week after an annual springtime rite in the city that begun in 1897.
But as the city and the nation begin the healing process after this biggest terror attack since 9-11, many questions beg for answers.
Many people (even our kababayans) ask why these young men, who lived in America most of their life, could execute such a violent crime to harm and kill fellow Americans.
Reports say that the older brother Tamerlan might have been radicalized by extremist groups during his six-month visit to Russia in 2012. Moreover, he had reportedly been an ardent readers of Jihadist websites and extremist propaganda, and could have been motivated by an anti-American , radical version of Islam.
It has been also speculated that the younger brother Dzhokhar (whom his friends describe as 'very typical American') might have been somehow influenced, if not brainwashed or even manipulated by his older brother under duress, to become an accomplice to this violent crime.
Many do not understand the paradox: that despite the betrayal, deaths and injuries resulting from the violent acts of these brothers against the country which adopted them, why would America still accord Dzhokhar Tsarnaev (a naturalized US Citizen) the rights to remain silent, to an attorney and to a fair trial?
Many wonder and worry how this violent crime, allegedly perpetrated by these immigrant brothers, would affect the passage of the immigration reform bill. After all, they got their legal status when their father Anzor Tsarnaev's 2002 application for political asylum was approved.
And finally, if proven guilty, should prosecutors seek death penalty as punishment for bombing suspect Dzhokhar Tsarnaev? Or should they allow a plea bargain to spare him of capital punishment, if he could offer vital information that can prevent any further terror attacks against America?
What do you think?
Gel Santos Relos is the anchor of ABS-CBN TFC's "Balitang America". This article originally appeared in the Asian Journal where she also writes op-ed pieces. The views and opinions expressed in this article are solely her own and not of ABS-CBN or TFC. Visit Gel's blogsite to read more Fil-AM Perspectives. Follow her on Twitter @GelSantosRelos.